EM870S Digital stepper driver - 80V 7A Leadshine
Leadshine's EM870S driver is a new generation digital stepper motor controller. It ensures smooth movements at low speed, optimum torque, low heating and low operating noise.

Its excellent performance, simple design and ease of configuration make the EM870S an ideal tool for many applications such as pitch and direction control (CNC machining, 3D printing, etc...).
 
Features: This driver allows operation in microsteps allowing high resolutions to be reached up to 25600 steps per revolution (and even up to 51200 steps per revolution via the EM-S ProTuner application).
The switches SW11 to SW16 allow the adjustment or activation / deactivation of the various functionalities. 

It is suitable for bipolar or unipolar 6-wire motors (half coil or full coil) of the NEMA 23, 24 and 34 series.
 
Interfaces: The input voltage level on the pulse/direction inputs is directly adjustable via switches, which dispenses with the addition of resistors in the case of 24V signals.
The connectors are detachable but should not be removed or reattached when the power supply is connected due to back EMF which can damage the driver.

An RS232 interface allowing driver configuration is available for advanced users. This configuration is carried out via the EM-S ProTuner application available for free download.

The RS232 interface is accessible on a 4-pin connector using the DMD Mini configuration cable DMD Mini (not included). This DB9 output cable requires a USB/RS232 converter
 
Power supply: The choice of power supply is essential. If the application requires low speed, it is preferable to use a supply voltage close to the minimum possible, which reduces noise and heating and increases torque.
A high supply voltage will give a high speed but at the cost of more noise, heating and possible vibrations at low speed.  
Features:
Power supply: 20 to 80 Vdc (24 to 72 Vdc recommended)
Max consumption: 7 A (depending on motor)
Input frequency: 0 to 200 KHz​
Current setting:
- via dip-switches: 1.4 A - 2.6 A - 3.4 A - 4 A - 4.8 A - 5.4 A - 6.1 A - 7 A
- via app (cord required not included): from 0.5 to 7 A (resolution: 0.1 A)
Micro-step mode:
- via dip-switches: 200 to 25600 steps/turn​
- via application (cord required not included): 200 to 51200 steps/turn (resolution: 200 steps)
Logic intensity: 7 to 16 mA
Functions:​
- anti-resonance system providing optimum torque
- multi-stepping mode
- configurable resolution in multi-step mode
- automatic reduction in no-load consumption
- suitable for unipolar and bipolar motors
- supports PUL/DIR and CW/CCW modes
- overvoltage and overcurrent protection
- "fault" output
- inputs compatible with TTL or 24 Vdc signal, adjustable via inverter (24 Vdc by default)
NB: No protection against reverse polarity of the power supply -> an inversion causes the destruction of the driver.
Operating Temperature: 0 to 70 °C
Operating humidity: 40 to 95 %RH
Dimensions: 118 x 75,5 x 34 mm
Weight: 250 g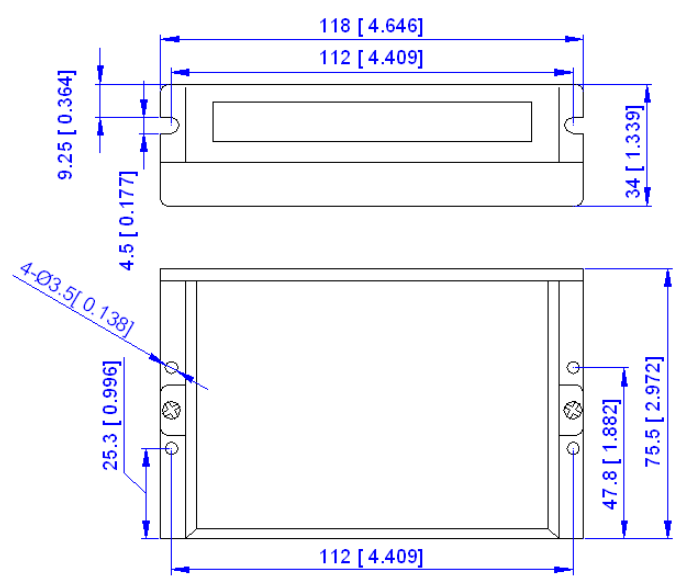 Your Dynamic Snippet will be displayed here... This message is displayed because you did not provided both a filter and a template to use.

Specifications
| | |
| --- | --- |
| Brand | Leadshine |
| Min. Voltage | 20 V |
| Max. Voltage | 80 V |
| Max. current | 7 A |
| Resolution setting | DIP-switches |
| Configurable | via RS232 cable |
| Selectable input level | DIP-switch |
| Weight | 280 gr |